お知らせ Information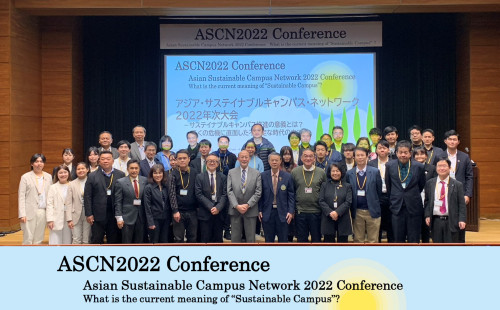 11月23日、24日に、ASCN(アジア・サステイナブルキャンパスネットワーク)の年次大会を、北海道大学+オンラインにて開催しました。
現地参加とオンライン参加含めて100名近くの方が参加してくださいました。
ご参加くださった皆様、ありがとうございました。
On November 23 and 24, the annual conference of ASCN (Asia Sustainable Campus Network) was held at Hokkaido University + online.
Nearly 100 people attended the conference, including both on-site and online participants.
Thank you very much for your participation.

こちらが当日のレポートになります。Here is the report of the day.

ASCN2022 Annual Conference Report.pdf (4.7MB)
プログラム Program http://casnet-japan.org/info/4864661
大会フライヤー Conference Flyer https://cdn.goope.jp/187847/221024165245-6356444d4dfaf.pdf
ASCN(アジア・サステイナブルキャンパスネットワーク)の年次大会の最新のプログラムについてお知らせいたします。
We are pleased to announce the latest program for the annual conference of ASCN (Asian Sustainable Campus Network).

PDFファイルはこちら Click here for PDF file (0.21MB)
Date
23-24 November, 2022
Venue
Sapporo Campus of Hokkaido University in Japan https://www.global.hokudai.ac.jp/maps/?id=67
(Online is available)
Theme
What's is the current meaning of "Sustainable Campus"?
Background
Universities are still facing to many tasks and challenges in the field of sustainable development and carbon neutral. In addition, due to the war, COVID-19, energy shortage, food crisis, etc., the world is becoming more unstable recently. In this situation, it is very meaningful for Asian universities to discuss and rethink about the meaning of campus sustainability.
Schedule Overview
Day 1 (23 November)
14:00-15:30 Campus tour at Sapporo Campus of Hokkaido University
16:00-18:00 Board Meeting
16:00-17:00 Discussion with UNEP
17:00-18:00 Discussion about the future of ASCN
           CGUN, KAGCI, SUN, CAS-Net
Day 2 (24 November)
10:00-10:05 Opening Remark (CAS-Net JAPAN)
10:05-10:10 Opening Address (President of Hokkaido University)
10:10-10:40 Keynote Speech (Hokkaido University)
10:40-10:55 Q&A
10:55-11:55 Current strategy of each network (15 minutes each)
1. CGUN: China Green University Network
2. KAGCI: Korean Association for Green Campus Initiative
3. SUN: Sustainable University Network Thailand
4. CAS-Net JAPAN: Campus Sustainability Network in Japan
11:55-12:40 Q&A
12:40-13:40 Lunch Break
13:40-14:50 Student Presentation A
1. CGUN (Online)
(1) Tongji University (1)
(2) Zhejiang University
(3) Tongji University (2)
(4) Shandong Jianzhu University
2. KAGCI (Online)
(1) Korea University
3. SUN (On site)
(1) Mahidol University (1)
(2) Mahidol University (2)
14:50-15:10 Break
15:10-16:00 Student Presentation B
4. CAS-Net JAPAN
(1) Hokkaido University (1) (On site)
(2) Hokkaido University (2) (On site)
(3) Chiba University (On site)
(4) Gifu University (Online)
(5) Ritsumeikan University (Online)
16:00-16:25 Break
16:25-16:45 Awarding student presentations
16:45-16:50 Closing Remark (CAS-Net JAPAN)